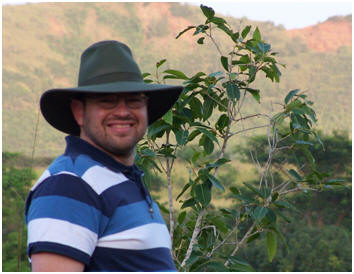 My name is Adam Blaue. I am a wretched sinner; I cannot do anything without the help of God. But through the free gift of grace given us by God's one and only Son, Jesus Christ, I know that I am forgiven. I also understand that God has given us the Holy Spirit to guide us in our daily walk in faith.

I was baptized, raised and am a member of the Lutheran Church, Missouri Synod. I was raised on a farm and I am currently a farmer. I graduated High School and went directly into full time farming. I married my High School sweetheart three years later. I have three wonderful children.

Ever since my earliest memories I knew Jesus Christ as my savior. I have always had a hunger to know God more and to be closer to Him. Throughout school I studied the Bible even reading it from front to back in my Junior and Senior years. Since, I continue to read and study the Bible I also read and study the Lutheran doctrine as well as other doctrines and I love to study Theology. I am currently a lay leader in the church that I am a member of. I am a member of the Praise band. I also helped start a Contemporary Christian band called Building Bridges with two friends. Shortly after we started we brought in another friend as our drummer. I play Keyboard, Mandolin, Bass, Baratone Ukulele, Tenor Ukulele and sing. With Building Bridges I go into the Montgomery City Youth Center, one of two maximum security juvenile jails in Missouri. We minister to the young men there in word and music once a month on Sunday nights. This is my favorite thing to do.

I believe that the Lutheran Church, Missouri Synod doctrine is the purest doctrine but our doctrine is often lost in its application. I also believe that everybody else could and maybe do say the same thing about their church doctrine.

I believe the Bible is the Word of God. I also believe that the Bible is the means to get to know a loving God, not a book of rules given us by an angry overbearing God. When we read the Bible it should be like we are dating God. It should be like are getting to know the intimate details of our Creator. Our relationship with God should go beyond words, beyond understanding. As part of the building of our relationship with God, the Bible contains details that will help us to live a better life. Thru the Law we are shown our sins (our need of a Savior) and thru the Gospel we are shown our Savior. It is only when we understand our need of a Savior, that we can then develop a relationship with our Savior.